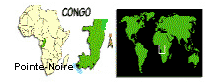 In the heart of Africa, across the equator, The People's Republic of Congo opens its doors.
Surface of 342.000 kmē and a population of 3,5 million, Capital: Brazzaville.
The country is mainly covered by tropical rain forest with Oil and timber being its principal resources.
The main point of export is the port of Pointe – Noire, which is the economic capital of the country. Located on the Atlantic Ocean, Fernand CARLE Law Firm is strategically positioned in the heart of the Congolese economy: Pointe Noire.