Created in the 1950's by Maître Viguier, followed by Maître Marrianne, Fernand CARLE Law firm exists since 1971.
Member of the International Union of Lawyers, Fernand CARLE Law firm has activities in Congo - Brazzaville and represents its clients on the international legal scene.
Fernand CARLE Law firm is the Legal consultant of the Consulate-General of France in Pointe-Noire.
The firm appears in the reference columns of the "Chambers Global, the world's Leading Lawyers" and the "International Correspondence Lawyers".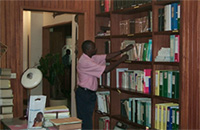 Today with seven lawyers and three associates, it is one of Congo's most significant Law Firms with a network of correspondents worldwide.
Although Fernand CARLE'S first vocation was to litigation, he quickly specialised in commercial, maritime and international law.
The Firm's clients primarily consists of national state entities, local corporate clients, multinationals, banks and international organisations.
Because of its network of correspondents established throughout the years, Fernand CARLE Law firm has international presence which ensures effective representation of the Firm's clients worldwide.
The core of the Firm's activities in Congo - Brazzaville is devoted to multinational companies especially those in the oil, gas and forestry sectors.
The firm has also intervened on behalf of the National Committee for privatisation, for which the Firm managed the ceding of national companies in the water, electricity, telecommunications, transport, forestry and Hotel management sectors.
Fernand CARLE Law firm consists of five Lawyers, five Associates, a significant administrative staff and a secretariat.